Buddy Hyphen Baker DOT US System Status Page  (2/13/20 as of 12:05 EST)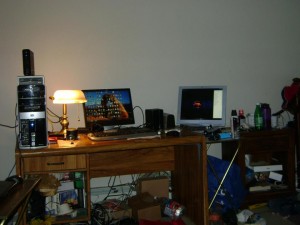 WELCOME TO BBUS!

NETWORK STATUS: GREEN/OPERATIONAL
SERVER STATUS: GREEN/OPERATIONAL 
WEBSITE STATUS:
BUDDY HYPHEN BAKER DOT US:     GREEN: UP AND OPERATIONAL
BUDDY HYPHEN BAKER DOT COM:  GREEN: UP AND OPERATIONAL
(Updates in Progress: Please be patient as we make changes to this site)
BUDDY HYPHEN BAKER DOT ORG:  GREEN: UP AND OPERATIONAL
(Updates in Progress: Please be patient as we make changes to this site)
BUDDY HYPHEN BAKER DOT INFO: GREEN: UP AND OPERATIONAL
(Updates in Progress: Please be patient as we make changes to this sites)
HTTPS/TLS: Online and Functioning for All Domains on the Network (7/26/2019)
(Updates in Progress: Please be patient as we make changes to this sites)
Current updates to this status will be linked HERE (as we proceed)
---
MACHINE STATUS
CARDINAL: ONLINE
THRUSH:  ONLINE

BLUEBIRD:  ONLINE
DOVE (TCTS OPERATIONS): ONLINE
HURON (MOBILE OPERATIONS): ONLINE
---
UPS STATUS:  ONLINE / OPERATIONAL
LOGIN SERVICES:  GREEN/NO RESTRICTIONS
SERVICES STATUS: GREEN/NO RESTRICTIONS
---
---
 AFFECTED SERVICES: ALL SERVICES UP/OPERATIONAL
---
---
SERVICES STATUS:  ORANGE

---
---
AFFECTED SERVICES:
---
(BBUS User Web Pages:  DISABLED FOR FORSEEABLE FUTURE (7/26/2019)
BBUS BLOG: REGISTRATIONS OFF Until Further Notice) 
Buddy Hyphen Baker DOT Com – Maintenance CONTINUING  as of 2/13/2020)
Buddy Hyphen Baker DOT Org – Maintenance CONTINUING  as of 2/13/2020)
Buddy Hyphen Baker DOT INFO – Maintenance being performed as of 2/13/2020)
---
FEBRUARY UPDATES (2/13/20 @12:22)
 PACKAGES: Cardinal Packages have been updated/upgraded as requested by the installer.  We WILL NOT UPGRADE  to Debian 9.0 – We will wait until Debian 10, as it is supposed to be more stable.  As stated in the last update, updating the packages ensires we are running the most updated and secure versions available.  These updates can be done without too much notice, and usually do NOT effect users who login.
---
BBWN Websites:  ALL BBWN Websites were taken down in the last few days, because we COULD NOT update them properly.  Either a permission setting in the updater, or a permission setting sitewide was causing an error:  BBUS itself was UNABLE to update at all, so we took it down, set the Directory Permissions, reuploaded the files, reset the File Permissions, updated the Plugins, and THEN updated to WordPress 5.32.  Once complete, we found that BBDC and BBDO were also acting up, so we did the same thing.  Brian was able to restore all the files, directories, posts and information to BBDC and BBDO, and then updates were working again.  BBUS/BBDC/BBDO were operational on the 11th @15:00 (3PM).  BBDI took longer because of a glitch in the browser (Firefox)  It was going to BBDC Main Page and loading garbage.  Deleting that install down to the root (/public) directory of BBDI, and then reloading the WordPress files helped us.  What needs to happen is that the installer needs to run, and with the right permissions, it works well – Then it asks for a config file, which if not there, it creates for you – But something was NOT being fully created, and I was getting a corrupted file, and you need the WHOLE thing, then you can create, paste and save the file, run the installer, and plug in the information, then lock down the config.  DONE and functioning as of 11:00AM EST.
---
I would like to announce the addition of Buddy Hyphen Baker DOT INFO – The Future Home of Kaiser International Protection, LLC, Operated by Mr. Daniel (Dan) Kaltz and his partners.  BBWN will host and maintain his site for him.  We will be making updates to the content as he wishes, and he will be asking for us to add content and plugins to make the site work to his liking.  Welcome Aboard Dan – It is an honor to serve you!!
---
BBOARD:  Our BBOARD forum software has been in a admin-imposed DOWN STATE.  Reasoning for this decision is that we have been getting a TON of SPAM registrations, and we want to add some protection against people who are spamming the registration process with garbage usernames, email addresses, and website URLS.  We have been BANNING all the garbage, but we need a plugin to stop the deluge of registrations – For the time being, manual registration and admin approval by hand is the ONLY way to get an account.  We hope to change this in the near future.
---
SYSTEM BACKUPS:  We will be performing these shortly – with WORKING sites on all domains, this will allow us to keep things running smoothly.  We hope to do this in the next week or so (Around February 22nd)  This will be a COMPLETE root-down backup of needed files, as well as /home/home2/home3 and /etc.  Web directories in /var/www/ will also be archived.  Once we have these, we will PRUNE older copies of tar and tar.gz files – we will post this info on the BBUS Facebook page when we wish to do this.
---
WordPress Updates:  ALL DOMAINS have the most current WordPress Install (5.32), and ALL plugins have been updated to the most current versions available.  Plugins that have caused errors on the sites have been DEACTIVATED until we can either update them to current versions, or replace them with compliant plugins that work with the version of WordPress.
---
OCTOBER UPDATES (10/5/2018
---
Cardinal Packages have been updated to the most current version possible without going to Debian 9.0 – We will stay with Debian Jessie for the time being.  Updating the packages we use ensures that we are using the most secure and updated version.  These updates usually can be done without too much notice, as I just have to log on and command the updates.  We will NOT "Upgrade" Cardinal to Debian 9 unless we see a need, because of changes to supported databases in the new version, as well as the depreciation of some of the programs that we use on Cardinal, which have been working well.  There are other reasons to keep Debian 8 running as well,  – Doing upgrades  without being well-informed, could result in us having to restore backups to make the system work again.
---
BBOARD:  Our Forum Software has been updated again, although the board is in maintenance mode and is OFF at this time.  There have been way too many spam accounts and email addresses that we would have to activate and ban, and I need to see if there is a way to stop some of this spam at the domain or software level.  Once this is done, we'll activate the Board again, and those who have active accounts will be able to visit and post again.  Thank You for your Cooperation while we work through this.  –bsb.
---
WordPress Updates (all domains):  I will be updating all domains on the network with the most current plugins for the domains, as well as to update WordPress Versions if necessary.
---
---
---
DECEMBER UPDATES (12/17/2016)
---
SSL/TLS ACTIVE (December 17, 2016):  Cardinal now has an SSL Certificate for use on BBUS.  Right now, it seems to be working on all pages of BBUS EXCEPT the BBUS Blog Version 1.  This will be corrected at some point next week.  Following this change, I will then backup the system files again to be sure we have what we need. All Pages that have a LOCK (Padlock) are SSL encrypted.
---
APACHE2 (December 17, 2016):  This service has been restarted to ensure that SSL is working properly.
---
Christmas System Maintenance (Week of  December 19th): Any Maintenance Tasks for BBUS will be done the week of  Dec. 19th, as Christmas is on a Sunday, and I want to be sure that we have all we need to run through the holiday period.  NO maintenance tasks will be performed the week of December 26 – December 31.  Regular Maintenance Tasks will resume  Tuesday, January 3, 2017.
---
---
CARDINAL DOWNTIME (July 18-July 21, 2016):  Cardinal was down for the week because of weather that was unpredictable and also dangerous.  We had several days of High Winds, and a few days of rain and Hail. Buddy decided to power down Cardinal and all BBUS services during this time period.  All Services are UP and functioning as of 18:00 on Thursday July 21, 2016.  Thank You for your understanding and patience during this long-term downtime.
---
---
THRUSH DOWNTIME: (5/25/2016: 14:00 – 16:00): This Evening, Thrush was down for about 2 hours while Buddy rearranged some wires again.  After doing so, Buddy made several attempts to power Thrush back up, but it would NOT restart.  BK's Computing later diagnosed the problem as a dead Power Supply.  Apparently, it was a 300 Watt unit, and B.L. replaced it with a New 500 Watt Power Supply in about 15 minutes, and checked a couple settings for me, since he did the hardware replacement already.  He told me that since there was so much HEAT being thrown by the Video Card, that he was surprised it did not already burn out.  Brian L. is a LIFESAVER – Thanks to him, I now am back UP – Because of the downtime, all services on Cardinal would have been down, while I reconnected the proper machines to the CyberPower UPS  – I just have to reinstall the software to manage it at a later time 🙂
---
---
LOG-INS:  Login restrictions are LIFTED  for those who wish to log in (March 25, 2016 @10:00)
---
SSH (UPDATE): As of Sunday, May 15, 2016, Buddy has restarted the ssh daemon service after adding a command to the system-wide Configuration File.  I added a 'ConnectTimeout 0' line to the ssh config file for everyone's convenience.  At this time, I am going to update the System Status to show Status GREEN for SSH.  If necessary, I will downgrade the System Status to Status ORANGE if I find that it is warranted.
---
SFTP (UPDATE):  As of Sunday May 15, 2016, Buddy has been running with SFTP modifications made a couple weeks ago.  It appears that all of these mods are working well.  I was initially unable to login correctly using SFTP.  After doing some research for this problem, I was able to install an sftp server that will allow for sftp-only access.  At this time, I am going to update the System Status to show Status GREEN for SFTP.  If necessary, I will downgrade the System Status to Status ORANGE if I find that it is warranted.
---
LOGGING DAEMONS:  It appears that the logging daemons are behaving now, and my main disk is functioning within acceptable limits. Jonathan Liedy reports that the reason that the root partition was filling up was because of a USB device "dropping tons of crap" into the logfiles.  This appears to be corrected, as Jon told me that an update to the kernel  must have fixed the problem.
---
NEW USER Home Directories:  All New users will be added on /home2/username – later on, I will be making sure that I can allow users to have some download and upload capabilities.
---
The Quest For Knowledge NEVER ENDS: It has a BEGINNING and a MIDDLE……
I started with the project of bringing a Debian Machine on line last Friday Morning (February 26th) Since then, I have been "burning the midnight oil" learning about linux at night so that I can make the machine better. I had to reformat and repartition the main Hard disks about 5 times in
3 days as I realized that the way I had it set up was either WRONG for the use I wanted, or set up in such a way that because of a firmware upgrade problem, I could NOT go to RunLevel 1 (Maintainance Mode) You have that mode so that you can perform work on the server as a single-user: root: and if you forget your password, you are SUPPOSED to be able to drop to a shell (/bin/sh – # as root) and be able to reset your password – however, because the disks have to MOUNT to their directories in the filesystems, if they cant mount……Well, lets just say that it would be a MESS and sometimes it can be a BIG Problem!!
---
APACHE (HTTPD) AND THE QUEST FOR WEB SERVER UPTIME
This "Quest" has been something that went into HIGH GEAR about 6 months ago, when, after many years, I finally realized that my former Debian Server (Running Debian 5.0 "Lenny" would most likely never be turned back on and serve another page. Needless to say that I was LUCKY I backed up
and maintained it like I did, because I was able to save 90% of my files, that date back to 2007 or 2008, when I was asked what I would do with a webpage: You see, Making a webpage (One or two maybe) is easy, if you want to do simple HTML, but if you have to also set up, deploy and maintain a machine, it can become a pain heheheeh – When I was sitting here this past weekend, I was trying to think of a name for the machine (Each machine on a network has a name assigned so that you will know what machine you are accessing) I was thinking of Birds, my Grampa (Manny) Leblanc, and the color RED: Then I had the perfect name: Grampa always loved Cardinals – so, there we have it – The machine is called 'cardinal.' so, my machine name is appended to my domain, so it would be "cardinal.buddy-baker.us"
After 3 days of messing around with Linux, Apache, MySQL and PHP, as well as WordPress, I am proud to be able to say we are in the Home Stretch – I have to get some extra drive space for some things, but she is running!!
---
UPDATE: Additional Space in the way of a new External Drive (3 Terrabytes) should be on line sometime next week – This way, I won't be on the verge of a CRASH, and risk losing all the work I put in to make Cardinal operational. When I have the additional space added on, then I will change the Service Status to "Green" -bsb (3/4/2016 @20:20)
---
UPDATE #2: (3/18/16 @18:17 EDT):  The 3 Terrabyte 3TB is online and functioning.  Users can access it by doing the "cd /3TB" command.  ALL NEW USER ACCOUNTS will have their home directories in /home2, which resides on the 3TB drive.  Current System status is GREEN, but be advised that we will be working on the system as necessary to ensure that we do NOT lose any data (-bsb 3/18/16)
Updates to System Status will be updated as it is warranted!!
Sincerely,
Brian S. "Buddy" Baker A.S., B.S.
System Administrator