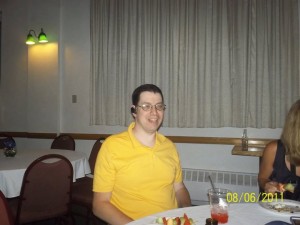 Buddy
OCCUPATION: Website Owner, Site Administrator, Buddy Hyphen Baker Dot us, Buddy Hyphen Baker Dot Org,

and Buddy Hyphen Baker Dot com
Executive Director, Trinity Community Thrift Store
HOMETOWN:  Barre, VT
CURRENT CIVIC & VOLUNTEER ACTIVITIES:
Trinity Community Thrift Store, Montpelier VT (Executive Director (April 2, 2017 -Present) 
Trinity Community Thrift Store, Montpelier VT (Operations Manager (December 2011 -April 1, '17)
Trinity United Methodist Church, Montpelier VT (Advertising Assistant)
Tallahassee Freenet, Tallahassee FL (Assistant Webmaster, Assistant Administrator)
---
FAVORITE SITES:
Besttechie : (http://www.besttechie.com/)
Geeks to Go!:  (http://geekstogo.com)
Britec Computers: (http://briteccomputers.co.uk)
Tallahassee Free-Net: (http://tfn.net)
---
ABOUT BUDDY: I was born in Hardwick VT in 1972, and raised in East Hardwick and Barre VT.  I have lived in Barre for the past 42 years.  I attended schools in Barre, Graduating from Barre Town School in 1987, and Graduating from Spaulding High School as a member of the Class of 1991.  I attended Champlain College in Burlington VT, where I majored in General Business and Professional Studies, General Business, where I received my Associates Degree in May 1993, and my Bachelor's Degree in May 1995.  I have been working with computers for years,and have approximately 30+ years of experience in using PC's and about 10 years in using Linux based operating systems.  In 2008, I launched BBUS (This Site) and I continue to learn about Linux and System Administrative functions, with the help of my friends and colleuges.  While in college, I began to discover what a computer could do.  I got my first computer in 1990, and was using it to complete homework assignments and such.  Once I got my second computer, I was able to learn to use an IBM compatible computer, and when I got my third computer while a freshman in college, I was able to learn Windows 3.1/DOS, and soon, I was hooked on it – I was introduced to what it could do, and was doing amazing things with it.
---
One day, while working, I was shown what the "Internet" was, and what a "Network" was, and could do.  I was the first student on campus to have remote access to the main Student Network, and the first student to have email and the internet on campus – Little did I realize what an impact this would have.
---
I had an instructor on campus, Dr. William "Bill" Hannaford, who told me that the internet was an amazing thing, and I was able to get my first internet account.  I chose the Tallahassee Freenet as my first internet account.  I have been with them since September 1993, as a user, IRC Channel Operator, IRC Server Operator, and a questions/problems volunteer.  In 2007, I was again promoted to Assistant Webmaster, and was given  command of the editing and creation responsibilities for their website.  I now am an assistant to the TFN Admins as necessary.  I owe a debt to Dr. Hannaford, because he was the one who talked my mom into letting me get my first modem – This allowed me to expand my service to TFN, to maintain my link to the outside world, and to become more proficient in the use of the Internet.
---
Since then, I have learned more and more, and because of TFN, I have realized a dream of mine:  Owning my own server, website and domain – There are so many people that have made this a reality – and they have each taught me so much.
---
Buddy is a Techie, but he is also a loving and understanding individual that is dedicated to his family unit.  He is a son, a stepson, a brother, an uncle and a valued member of the community.  In my spare time, I like to read, write email, watch TV, play video games, swim, exercise and be outside doing fun things. Buddy likes to hang out with his brothers Michael, Daniel, Eric, James and Nate whenever posible, and has a lot of fun when we get together.  Also, I enjoy getting together for family functions such as family reunions, birthdays, etc, and any excuse to get together usually means I am there.  I love to learn, so you will mostlikely find me interested in technology-related topics, news, and other interesting topics.
---
Lastly Buddy would NOT be who or where he is today without the support of his Mom or his Dad.  Mom and Gary and Dad and Carolyn have been there in many ways over the years, and it would be crazy for me not to mention them here. REGARDLESS of what I do, they and others have given me the courage, strength and resolve to excel, and for that I am GRATEFUL!  Thanks Guys 😀
---